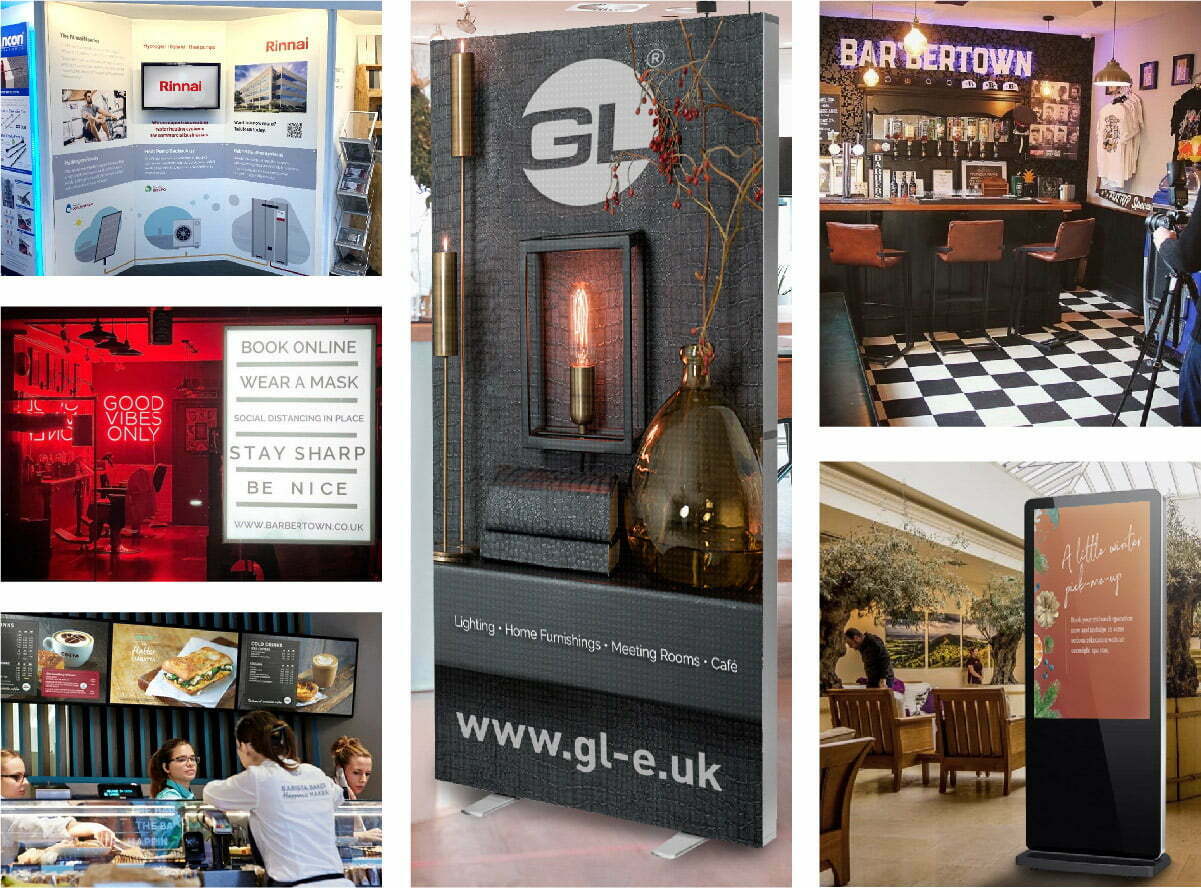 Elevate your Signage and take it to new heights!
No, we don't mean install your signage really high up (although our team of fitters can install at any height using towers, cherry pickers and even abseiling teams!).
When we talk about elevating your signage, we mean standing out from your competition by taking it to another level.
It's a cost-effective way of projecting your branding, and there are lots of creative options to choose from. Functional yet striking signage can have a huge impact, and linger in the memory of the people who see it.
We've listed below some of our most popular products, from LED signs through to large digital signage – something to cater for every budget.
BESPOKE LED SIGNS – Get your business's name in lights!  We manufacture bespoke cut letters and logos backlit with LEDs – fixed away from the wall with stand offs.
LED NEON SIGNS – Create eye-catching designs with our range of LED neon signs. They're energy efficient, can change colour and dim or create strobe effects to create a really dramatic impression.
LIGHT BOXES – LED light boxes are a bright idea for when you need regular, quick graphic changes.  They're available in several sizes and come with bespoke lettering and emojis for your business.
ILLUMINATED STANDS – Move over roller banners – these portable, freestanding LED light boxes will certainly make your stand pop at your next expo.
STANDS WITH TV UNITS – When you have a demo video to display, our pop-up stands with TV brackets are the perfect solution, or we can build bespoke stands/permanent displays for any space, for example reception areas.
DIGITAL SIGNAGE – Adding digital signage to your premises increases customer engagement and reinforces brand recognition. Screens are a brilliant way of capturing attention, can show multiple messages and target when these are shown.  New information or graphics can be updated easily and automatically. Utilising digital technology to boost your signage is a cost-effective way of displaying multiple, up to date advertising.
Discover our high-impact digital signage range – free standing, plug and play, wall-mounted, digital menu displays, window displays and LCD video wall displays.
And that's not all. Choosing the signage that is right for you can be difficult. The PB Signs friendly team of experts are always available for advice and guidance to help you make the right digital signage decision.